Who says faith goes in the way of finding love? As the world grows, so do Christians, and because of the pandemic, various people in different religions take to online dating to find their destined partner. Generally, according to this report, almost 44% of Americans use an online dating app, and 27% are young adults. The report says men use the app more than women.
Because of strict rules and protocols, the Christian community has built dating websites for Christians that want to find a fellow like-minded date. But still, with almost 3 million users on different sites, how could you possibly find "the one"? Maybe with these tips, you can and a little bit of faith too!
The Holy Path To Matrimony
Authentic and True
The last thing you'd want to appear in front of a potential date is deceitful. Knowing who you are as a Christian and what you stand in counts as authentic and accurate, and that's one of the many characteristics your Christian date might be looking for too. A verse in the Bible says, "Do unto others what you want others to do unto you," so being true and showing who you are will coax your date to do the same.
Many Christian dates have gone sour because of pretensions on their first dates. Be straightforward and show humbleness. Remember how He would treat a fellow Christian, and you're set to go.
We know it is surprising and new to find a Christian woman/man who believes in the same thing you do, and you might even put most of your attention and affection unto them. But never let any relationship, potential or budding, to get in the way of your faith. Remember that He has put you two together and can easily pull the both of you apart if any of you come in between the relationship you've built with Him.
Besides, any relationship with Him lacking in the midst of it is doomed to fail. Dating can be great, but both of you should also continue to serve Him and do the things you usually do at church. Having a date doesn't have to take away time from Him but can be a type of fellowship between you both.
Friendship Before Love
Anything that does not start purely won't continue to become so. The best thing to impart on someone ready to venture into using Christian websites for dating is creating a friendship strong enough to become the foundation of love. This friendship grows in shared worldviews, values, and reliable, honest communication. In this way, you can see the devotion and sincere faith your partner can have in the conversation.
It may be hard for some, especially with worldly temptations, especially lust. But hold fast in prayer and never place yourselves in a situation where unwanted circumstances can happen. Dating can be done in public and doing so in private will only compromise your hearts and purity.
Talk To Your Date Honestly
Being open is a general rule in any faith, and it includes Christianity too. But in Christianity, dating is done with the intention of marriage. So instead of asking if your partner has any purpose of sealing the deal, ask them if they want to focus on a career or have kids. Maybe they want to pursue their hobbies or finish going to school? Speaking about this openly can give both comfort and security to your Christian date.
If both of you are into lists or journaling, you can start a joint journal where you can place your dreams for the future. You can also make a bucket list with them and use it in the future when both of you have advanced to marriage. By doing this, you are showing your intentions loud and clear to them.
Social Media Isn't Always Bad
Your pastors might have told you the dangers of social media in these times, but it's not evil if your intentions are good and faithful. Using it to share your relationship can also help other Christians doubting to use online dating to find their life partner.
However, things can get bitter a little too quickly. Social media can also open doors to temptations, which is why boundaries are important. Speaking to your partner, agreeing on terms that fit the both of you, and applying it on social media will help cushion any problems regarding it. Faithfully and devotedly agreeing to those terms is the recipe for an outstanding online presence.
Don't Forget The Original Rules
In a world where sexual satisfaction before marriage is almost the norm, choose to become traditional and conservative. According to this site, the world views sex as fun but nothing deep and meaningful. Many Christian families teach their young son and daughter that saving themselves for their rightful partner is morally correct, and so they are. Your pureness is a gift that is to be delighted in the boundaries of marriage, not in the stolen moments behind locked doors.
In a serious relationship, you are set to walk your journey together right and proper; lust is to be discarded, and in its place comes constant reminders of purity. It means how precious it is and how it can be a foundation of a happy marriage set in stone between the both of you. A relationship that He has decided on will never be torn, but itis up to the couple to make it right in His eyes.
Roles In The Relationship
As the man is destined to become the household leader, so should the woman follow him and yield to him. But before that ideal role is placed between both of you, make sure you are fit for it. If you are a man in Christ, you should have the qualities of a leader that will compel your wife to respect you as one. Faithful, strong-willed, wise, confident, yet God-dependent are some of the qualities she is looking for in you.
On the other hand, women in Christ are called to be respectful and stand behind their husbands in the face of adversity. She should be modest, wise, gentle-hearted, humble, and steadfast in her devotion to her husband. In the dating scene, you can identify these qualities in the right partner.
No Other Love But True Love
Puppy love can be devastating if you choose to treat it as true love. Immaturity that comes from being youthful plays around with these terms without genuinely knowing what love is. But it is in 1 Corinthians 13:4-8 where the accurate description lies. Love is patient, kind, humble, and does not keep a record of wrongs. Is that what today's Word says about love?
The answer should be a definite no. With all the one-night stands, cheating, polyamorous relationships, and other distorted views of love broadcasted in social media, TV shows, and books, it is easy to lose sight of it. Remember that one verse in the Bible lists all the things you should base your relationship off of.
Your heart is the center of your entire being, and the closest thing to your soul. When you leave it unsecured, what happens? It becomes bruised with hurt, expectations, and even ones from your potential Christian mate. The one thing you should remember when dating someone is this: you are a protector of their heart.
Especially when they have become vulnerable to you, their hearts are easy to mishandle even if you didn't do it on purpose. Guarding your heart and the one you are in a relationship doesn't mean distance to "cool off," but it can only mean having a healthy relationship with set boundaries and pure intentions.
There Is No "Perfect" Date
As Christians, we understand each person on this earth has sinned at least a hundred times in their lives. It is not our place to judge, it is His, but what we can do is accept that we have no ability to change them. It is possible for a potential Christian mate that they will not appear ideal to you, but it does not mean you can cross them off already. God has surprises in every turn, and His thoughts are higher than ours.
With this, do not delude yourself into imagining the perfect model for a wife or a husband. Instead, pray fervently for the right one that is made to mold with you entirely.
Date only to marry, and nothing less. As God had intended the sacrament of marriage to be a sacred union, courting can already be considered a part of marriage. Dating to fool around because of boredom not only disrespects your Christian date but also disrespects God's intention of marriage as well.
Conclusion
It doesn't matter if it doesn't work out in the end, as long as you honor the person and leave them as pure as you met them. It does not mean that the first person you date is the one you should marry, but it is going through the motions of their lives without selfishly taking for yourself. Remember that they firstly belong to Him, and you are only there to treat them as to how God would treat them.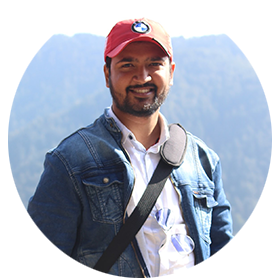 Latest posts by Amit Kumar
(see all)