"Difficulties are meant to rouse, Not Discourage. The Human Spirit is to Grow Strong by Conflict."-William Ellery Channing
There are several stories of common people defying all odds to create uncommon yet extraordinary stories. Whether it is the tear-jerking story of Arunima Sinha completing the mammoth task of climbing the mighty Everest even after losing her limbs, or it is the eloquent &hard-hitting story of a girl named Malala Yousafzai achieving the inconceivable feat of becoming the youngest Nobel Prize laureate even after being shot in the head by the notorious terrorists of Taliban. These poignant stories are imbued with the grit & tenacity of overcoming the hardships & struggles that life imposes on us.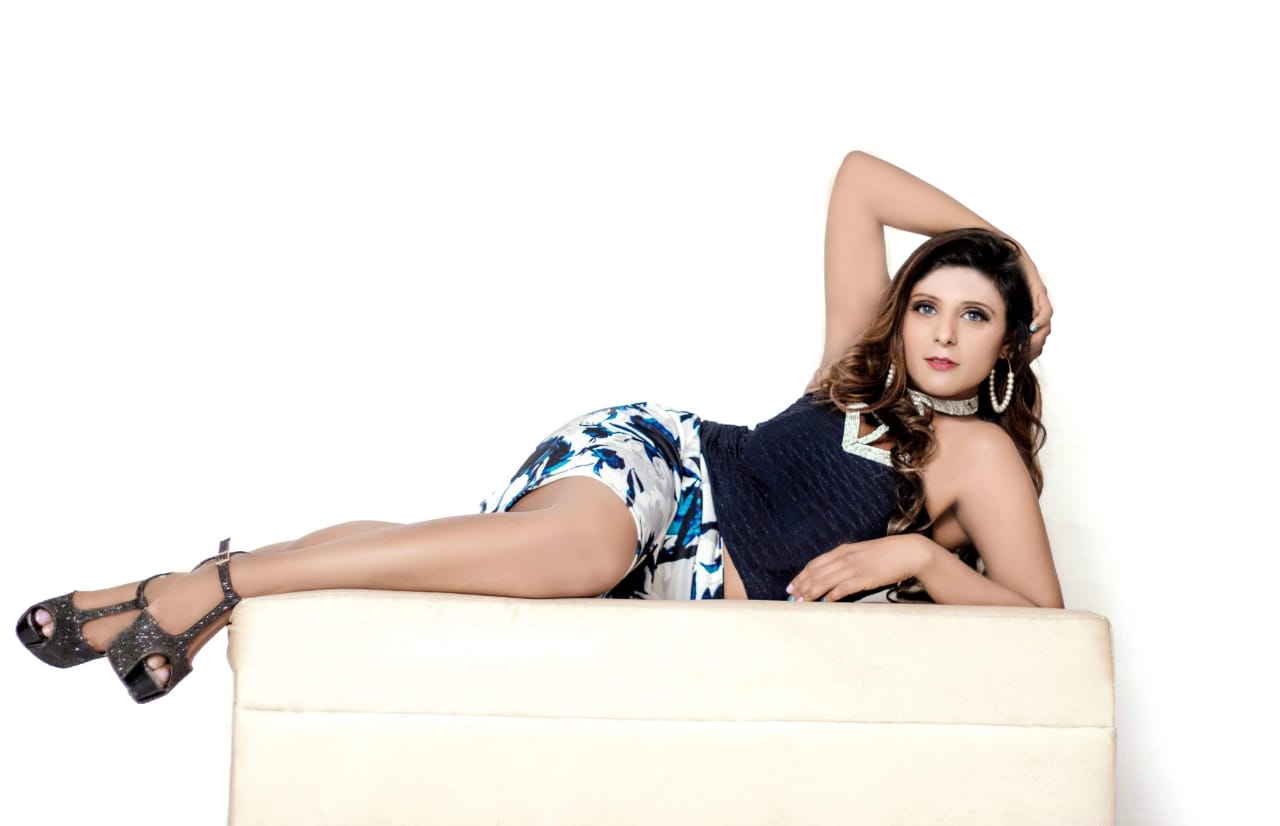 A similar story which is on the lines of the above mentioned incidents is of a girl named Shubhi Agarwal, who despite being in her 30's, not only has excelled in the arduous task oflearning complex art forms like Aerial Yoga & Aerial Silk, but also has created the unthinkable record of becoming the only person in Delhi-NCR to do so at anunlikely age of 30. Definitely, it sounds completely unconventional and outlandish, that at an age when a normal middle class person is on the verge of giving up his/her passion due to getting totally interwovenby the several responsibilities & liabilities, the upscale supermodel Shubhi has set a new benchmark for generations to come.
Being a professional electronics engineer, Shubhi Agarwal has set several hearts ablaze as a rising supermodel with her ravishing persona on the coveted ramp shows. But, just as the above images suggest, she has also been a portrait of persistence and steadfastness when it comes to performing the onerous poses of a special dance form known as aerial yoga& aerial silk. Seven years ago, Shubhi was fascinated with the picture of an aerial dancer on Facebook. Since that day, she had decided that she wanted to pursue this exclusive dance form as her passion for eliminating her fears by facing them head on with her shoulders being held up high into the sky.
Shubhi, a determined girl possessing the lethal combination of subdued beauty & unparalleled brain power, had unfortunately lost her father at a very tender age. But, instead of being bogged by this unbearable blow, she utilized her flexibility, core strength, and light body weight to pay a humble tribute to the soul of her father through this one-of-a-kind dance form. The tragic demise of her father had triggered a burning fire in this diva to conquer the unthinkable. She exploited the pain & grievance caused by this event to give birth to a will that helped her in traversing the roughest of terrains, and this will was combined with intense & continuous sessions of practice which elicited her in attaining a position of being unmatched in Acroyoga, even by her younger contemporaries.

Barely two years into practice, and this dusky model was confronting the pains of mastering these convoluteddance moves as she derived energy by tapping into the beautiful moments that she had spent with her father.With a stubborn attitude of not giving up, she dedicated all these dance moves to her parents that ultimately gave Goosebumps to the audiences through her performances. She has performed in front of shows that were judged by industry bigwigs like Shabana Azmi, Amit Talwar, Rajat Sharma, and Dinesh Mohan. The list of her exquisite performances is endless as she has performed in several esteemed events held at Contemporary Arts Week Festival, Kingdom of Dreams, etc. Having miraculously transformed herself into a teacher of this elite dance form, she continues to inspire many people through her firm self-belief.
Her dreamy blue eyes, her captivating charm, and her impeccable dressing sense has won many hearts in the modeling competitions that she has participated in. With grace & confidence, she has been successful in charming the guests of these shows and now she is currently leading the pack by participating as a jury in these shows. Who knew that this simple small town world would make it big in the fashion industry by becoming a Brand Ambassador of the Fashion Lifestyle Magazine. From being a runway model to becoming a showstopper, she has won thousands of hearts by her innocent smile.
A talented artist, a celebrity guest, and a technical genius, Shubhi Agarwal has come a long way by overcoming several failures and has ignited a fire amongst the youth through her innovative style. She believes in the saying of not following the herd and carving a unique niche for yourself with tremendous panache which has led to her being regarded as top brands in not one, not two, but in several industries. To reach out to this talented diva, you can follow her..
Facebook- https://www.facebook.com/shubhi.agarwal.10
Email id- agarwal.shubhi@gmail.com
Follow her on Instagaram- shufashionmodel