TRAVEL
Beautiful Places in Pushkar
Everyone has his or her belief and disbelief. The reason for pilgrim spots gaining prominence is due to the belief in people as they consider making such pilgrimage is an essential part or duty of their life. While some places that are attached pilgrimage status have temples and more temples of historical importance, some have temples and other attractions that are connected to history, cultural heritage and sometimes entertainment as well. Pushkar inRajasthan is one such place. Journey to Pushkar is considered the ultimate pilgrimage as it is said that after visiting four spiritual places in the country, Pushkar has to be visited to attain salvation. Spiritual importance apart, Pushkar offers feast to your eyes and spirit to your minds with its stunning beauty and various entertainments. Here are the five places to visit in Pushkar.
1. Pushkar Lake
It gains importance among spiritual travelers who aim to have a holy dip in the lake, which is considered a holy place and the King of 'Trithas'. It is believed that having a holy dip here is equivalent to doing meditation and prayer for a hundred years. Hence, this is most frequented by people who follow a particular faith. For others and including the religious people, this place is a beauty in itself. Surrounded by 400 temples and 52 palaces, the lake still looks serene and calm. The place is unique and the sunrise and sunset are beautiful to watch from here. y
2. Merta
The city is famous for classic palaces and temples. The 400-year-old city houses Meera Bai Temple, which is one of the important attractions in Merta. Other attractions includeAurangazeb Mosque and Bhanwal Matta Temple. The place has historical importance, as this was where Marathas defeated Jodhpur and Jaipur armies. This later came under the rule of Emperor Akbar.
3. Man Mahal
Man Mahal is a magnificent palace that was constructed by Raja Man Singh of Amber. It is situated on the eastern side of Sarovar. The palace flaunts the uniqueness of Rajasthani style of architecture. It is now used as a tourist bungalow and it is under the control of Rajasthan Tourism Development Corporation.
4. Brahma Temple
Those who follow Hinduism believe that Lord Brahma is the Creator and worship him. In spite of the importance attached to Lord Brahma, there are only three temples for him all over the world and only one in India. Pushkar gains additional importance as Brahma Temple is seen here. The temple and its surroundings are unique. The temple structure is built of marble and it is beautiful. Though Pushkar has many temples, Brahma Temple stands apart for its magnificence.
5. Pushkar Camel Safari Tour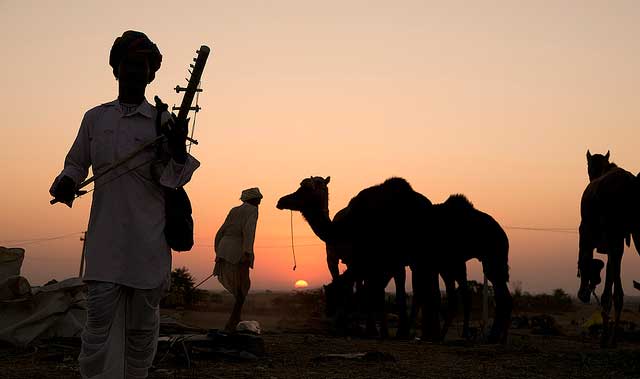 There could not be a better way to view the desert of Rajasthan. Pushkar Camel Safari not only offers to travel the desert but also keeps the members entertained with various outdoor activities. The safari is tailor-made to suit the needs of the visitors. The safari tour takes you to many villages through the desert and by sunset, you will find yourself on the sand dunes, a perfect place to be at that time of the day. You can opt for the sight of sunrise as well. It offers you the chance to meet villagers who are busy with their routines but happy to see you. A friendly atmosphere and overall a very pleasant experience awaits you here.
Pushkar has religious value, historical importance and of course an abundance of natural beauty. It all depends on how you would like to customize your stay and Pushkar stretches for you to offer what you need. Apart from Pushkar, there are many other tourist destinations in Rajasthan; please visit popular tourist destinations in Rajasthan to learn more.