It is said that a single picture is worth a thousand words, so, a moving picture would be worth a thousand more, right? But let's take a step back and be real for a minute. When it comes to vlogging travel experiences, it's pretty hard to tag a massive camera along.
Nowadays, more and more people are vlogging, be it travel, motivational speaking, or cooking. People are now interested in showing their life in short videos, and the viewers like it. Try making an introduction video to attract viewers using InVideo an online video editing tool packed with features and options to choose from.
To be a professional video blogger, you need to have a video editing tool that makes things right for you and gives you the magic that needs to make your videos more captivating to grab the audience's reaction.
If you are looking for a video editing software for your videos to be uploaded on Instagram, Facebook, and even on YouTube, you need to read this article quite carefully. It will help you decide which one is the best editing software for you according to your need.
Windows Movie Maker
Starting off our list, we have a Windows movie maker by Microsoft, a software pre-installed on your computer when you install the Windows operating system.
Most of the features you see in this video editing software can be done by drag and drop control.
You can easily trim, rotate, split, combine, and add music in your video's background.
There is no doubt it is a beginner friendly software, but the limitations come with that.
Once you edit three to four videos in it, you will realize that the software doesn't allow you to do many things you might need when making a video.
Newcomers who have just started making videos independently and don't want to invest their money in buying paid software are welcome.
If you are a skilled video editor, you might need something more powerful in editing tools. If you want to purchase the software, you need to pay $11.2
iMovie
For many people who are into editing and content creation, iMovie is the sole purpose they go for Apple Mac products.
iMovie is a free editing software that comes with the Mac operating system.
It's an ideal video editing software for almost everyone.
A lot of Youtubers are putting out their videos daily by editing them in iMovie software.
When it comes to limitations, you can expect them to be minimal. As a result, you can do a lot of work from the software entirely free of cost, and it already comes with your operating system.
If you have a Mac, you need to have this software for creating videos, period. You don't need any other software.
Moreover, you can use this software throughout the Apple product line-up from Macbook to Apple's iPhone and iPad range. On the other hand, iMovie is a free software, so if you are thinking of purchasing it for your Windows system, it won't work.
Wondershare Filmora 9
If you want something that both beginners and professionals can use, you surely need to check out Wondershare Filmora 9.
Many video bloggers and content creators use it to make their videos more appealing.
You can even record your screen and the webcam video and give voiceover directly in this software.
As a result, it makes things easy for you. For Vloggers, it's a blessing as you can easily set your presets, and within a few minutes, you are done with editing your videos.
Once you start using it, you will see how easy it is to master its various tools, which might look complicated at the start, but when you use it for three to four videos, you will get the hang of it.
On the other hand, it gives you several filters to add to your videos without paying anything extra.
There's a royalty free library so you can add music in the background directly from the editing software.
With just one click, you can add annotations in your videos, create a PIP effect, and you can even stabilize your shaky image in post-processing through this video. Filmora can be yours for an annual subscription of just $ 39.99. Or you can go with its pro version, which costs $89.99 for a year.
Cyberlink PowerDirector 365
If you want to keep their data safe in the cloud, PowerDirector is a great option for you.
It has a mobile application which you can download from both the Google play store and apple store.
It has a unique feature that can enhance the video quality and automatically does the color correction of the videos shot in GoPro or any other action camera.
You can have videos that are shot in 360 degrees; thus, it makes PowerDirector one of the most versatile travel vlog video editing software.
To get the CyberLink PowerDirector 365, you need to pay $4.58 monthly for the annual subscription of $54.99. If you are confident enough about using it, you can go for a $ 99.99-lifetime plan.
Adobe Premiere pro
Last on our list, but undoubtedly the best. The Adobe premiere pro is the best video editing software ever created. If you want something reliable and has plenty of advanced functionality, then premiere pro is the right option. There are so many tools that it will take you some time to understand what they do exactly,
When it comes to professional video editing, nothing compares to Adobe software's features and complexity.
From big Hollywood studios, Youtubers with millions of followers, everyone uses Adobe video editing software in some way or the other to make their videos more pleasing to the viewers.
Yes, if you think learning how to edit videos properly in adobe software is an easy task, you are in for a surprise.
But once you took it step by step and learned how to use it properly, you will see that no other editing software gives you more freedom to edit your video(s) than Adobe's premiere pro.
You can use the lightroom first as it's also available in a free version, and once you get the hang of it, you can purchase a full understanding of it. You can buy Adobe Premiere Pro for $22.8 per month. There is no lifetime plan for this software.
Conclusion
So there you go. These are some of the video editing software you need to have if you are thinking about becoming a good traveler blogger. A good way of reaching viewers is through YouTube, try converting your images to video and editing your videos for YouTube using this link here. Capturing a video is one thing and then making it enjoyable with all the additional information to grab viewers' attention is another.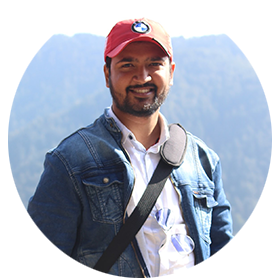 Latest posts by Amit Kumar
(see all)