"Hey, I'm getting late. It's better we plan sometime later and meet." She said.
He was not in any mood to drop her so soon, but he couldn't deceive his gentlemanliness too.
"Okay, let me take you back, but when are we meeting next?"
"Anytime you say. Today, I have left my work all scattered on the table and I need to complete them." She replied.
He turned his car and stopped his car at the same spot from where he had picked her. She put her hand out to hold his and wish good night. It was just for seconds, but enough to let him feel the sudden adrenalinerush.
"Hey, bye…see you soon. Nice meeting you. Do not actually know what I am doing, but happy to meet you in this lonely land."
"I do not know too, but would love to meet you again soon." He replied.
She stepped out of the car and walked towards her room wondering and recalling the short drive. She realized that she had not even seen his face properly. It was quite dark and she didn't even get to hear his voice as she had grabbed all the minutes to narrate her tale.
He drove slowly back to his room with the desire to meet her again with fire in his body and heart.
She sent him a text after reaching her room,
"Hey, thanks a lot. I couldn't even see your face."
He replied, "How could you as you had to talk all the way? I wanted to spend some quality time with you. But it's okay. Next time and please plan it soon."
She laughed reading and replied,
"Very soon. Good night."
The night was restless for both of them as this was something new to both.
The morning began with their wishes and the whole day was busy for both of them. They sent short texts to each other in between, but the conversations were too short.
In the evening, he sent her a text,
"Hi, any plans to meet tonight?"
"I don't know. Not yet thought about it." She replied.
"Then please think about it. I have become restless to meet you and I do not know why. Please…"
He requested fearlessly this time.
"Oh, is it? Any specific reason?"
He typed,
"Don't you want to meet me? Tell me honestly."
She typed back,
"Honestly speaking, I want to meet you too and spend some time away from my terrible work load."
"Let's plan tonight. Come to my room. We will share few drinks and talk and…" He was too quick to ask.
"Not today…c'mon. And, I don't know this place. I can't drive to your room. By the way, drinks, talks and…?" She replied.
"And, wherever the situation takes us to… What are your views on casual flings or a close bond with no strings tied? And, please don't judge me. I am just asking." He asked.
"Who am I to judge you? Your life and your rules. I am never against flings or close bonds as far as no one gets hurt. I have an open mindset. Everyone acts according to their preferences." She replied.
"Wow! No wonder why you writers have so vast knowledge and wide thoughts to write. I feel lucky to know you. Now tell me when do we meet?"
His ultimate question revolved around the same thing- his desire to meet her.
"We'll meet soon. Let me plan as I can't go to your place tonight. I have to study this area properly." She replied.
"Okay, should I come to your room?" He couldn't understand his desperation to meet her, but he wanted it anyhow.
"No, not tonight. There are people staying near my room too. They may have questions."
He agreed and typed back,
"I'll come late night."
She wondered about his desperation to meet. However, somehow, he was convincing her heart too. She desired to meet him too. But she took time to nod.
"Let's make it tomorrow." And, her tomorrow was extended to three more days.
They continued to talk, share their lives, troubles and very soon became too close to share everything and anything.
There were hurdles on their way to meet, and the desperation on both the sides were heightening day by day. Talks continued and the plans to meet remained postponed.
It was a Saturday night, and he thought of taking all risks to come late and meet her as his mind was not letting him to focus on anything. Office work seemed a burden and the only way to get relieved from his frustrations was to meet her.
He called,
"If you can't come to meet me, I am coming to meet you tonight. Please don't test my patience or I will kiss you so hard that your juicy lips will be swelled."
"Hahaha…hey, what's the problem? Chill! We will meet…okay come tonight. I will wait for you."
He was in the seventh heaven to hear this.
"Send me the location of your room. I am coming tonight."
The day was difficult to pass. She managed to wind up all her work and create some space for him to sit and talk in her small room. He, on the other hand, passed the day restlessly, many a times dreaming how he would act and what he would talk and do when with her.
It was 12:30 in the midnight and he reached her gate. She was waiting out to pull him in as quick as possible. He quickly entered her room breathing high and they both laughed looking at each other. He looked around to wonder seeing her books and the well laid table with her laptop, diary, pen and beautiful lights. It was a small, yet cosy space for a writer.
He looked at her and had the immediate desire to grab her tight. She was wearing a string top with a pair of shorts.
As soon as she pulled her chair near him, he suddenly pulled her towards him and held her tight. He held her tight pressing her soft bottom. She couldn't get a second to react or think anything. He held her face and kissed her lips like a hungry animal. He thrust his tongue inside her mouth eating her mouth furiously. He kissed all over her face forcefully pulling out her string top which was too loose to be thrown away. He opened her bra and threw it on the floor. He grabbed her breasts, pressing them hard and pulled her close to devour them. His tongue played on her nipples and he bit them with fire. She took heavy breaths feeling the pleasure, yet with a sense of fear.
"I want to lift you to that bed." He whispered.
(Will she flow with his fire? Will she surrender to his desires? To know more…keep reading)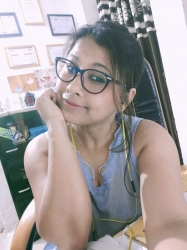 Latest posts by Mousumi Kalita Sachdeva
(see all)