It was too dark and she cursed herself for taking such steps without thinking much. She spoke to herself,
"O yes, I am adventurous, but never did I think to experience this kind of adventure. I must have lost my mind."
Saying this, as she turned her car, his call made the car halt suddenly with a creaking sound.
"Hey, where are you? Send me your location."
"Sending you. You must know I am not good at reading maps. In fact, I get lost in the music when I drive and maps make my drive boring." She replied.
"You are two minutes away from my place babes. Don't let this drive of yours go waste." He could never let her go without meeting him.
"Now what? You want me to wander around here for two minutes and get frustrated more!" She had already made her mind to return.
"I have been waiting for you and can't get out of your thoughts. I will drop you back. Please come."
His voice had some magic which pulled her every time he expressed his desire to meet her.
"Hmm…I am coming."
She drove ahead for two minutes and found the iron gate. Nervousness makes you blind indeed and you tend to unsee the things you see.
He stood out of his door looking for her equally restless and nervous this time. He kept his gate and door open. He called her again,
"Hey, where have you reached? I have kept my gate and door open. You can easily spot my room."
She crossed the darkness and reached a residential area which finally brought a smile on her face.
She could see him from her car waiting anxiously and her smile widened to see him waiting out for her.
She parked her car on the lane and preferred to walk to his room. He grabbed her and pulled her in with excitement.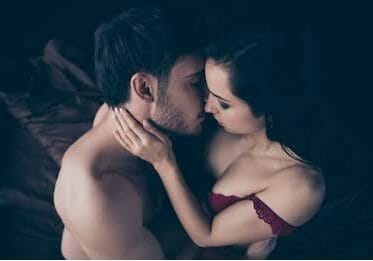 "Will you have some water, juice or…?" His happiness knew no bounds and he stammered with excitement and anxiety.
The room looked warm and comfortable with the blue dim light and its reflection falling on a map he had painted or pasted on the wall against his bed.
She sat on the sofa and blabbered showing her irritation.
"I have gone mad; in fact, we both have gone mad. I was almost lost today. Took the risk to meet you at this hour."
"Hey, I understand." Saying this he pulled her towards him and stopped her speaking by locking her lips with his.
He kissed her deep, eating her lips and devouring her mouth with his tongue without letting her to speak a word. He held her tight and rubbed his body against her. He pulled her black t shirt out and threw it on the sofa. His eyes widened to see her swollen breasts with the red bra on.
"Wow! Fuck!" Without saying a word more, he grabbed her breasts and kissed her neck. He was furious burning in desire. He struggled to open her bra and she delicately unlocked letting him pull it and throw on the floor. He put her heavy breasts in his mouth devouring on them madly. He licked her nipples and forcefully laid her on his bed. He threw his clothes out and climbed on top of her kissing and licking her body. His tongue rolled over her skin tasting every part of her body. He pulled her shorts out with his feet and let them fall without even seeing at them. He rubbed her clitoris and moaned feeling her wetness. She was lost in his touch surrendering herself to his desires. He pulled her up, hugged her pressing her body against him. He whispered,
"Would you love to feel my hardness and taste its fire?"
She held his Pennis tight watching him moaning and breathing high. She gently pushed him on the bed and came down to do what she had never experienced nor imagined to do for someone. She put his manhood inside her mouth sucking it deep and her tongue slid over it and below giving him the pleasure he was seeking since long. He furiously pulled her up and kissed her lips climbing on top of her. He pressed her breasts and thrusts his hardness inside her. He kept thrusting in and out sometimes giving her the feel of softness and suddenly turning it to rough. He pulled her hands up holding them tight and licking her armpits.
He whispered,
"Where do you want me to release?"
"Do wherever you desire to." She whispered back.
And her face could feel his presence as she closed her eyes. They lay on the bed for few minutes wondering in the darkness. He got up and brought a towel to clean her face. She hurried to the washroom to clean herself and dress up. He waited silently, relieved and satisfied.
"I have to go now. It's too late and I have to find my way back." She mended her hair, picked up her mobile phone and got ready to move out.
He hurriedly put his shorts in and said,
"I will guide you."
"No, I will manage myself." She replied.
"Do call me if you miss the way. Text me immediately you reach. I will be waiting."
She stepped out and walked towards her car. It was too dark.She turned her car and after a while she sensed that she had entered a wrong lane.
(Will she be able to find her way? Will she need his help to reach her room? To know more…keep reading.)