Embracing her thoughts and imaginations, her eyes took her to a world of dreams.
His mind wandered restlessly as he drove safe but as fast as he could. Finally, he was out in the streets after 100 days of lockdown. He had plans to sit inside for a month more as work was continuing from home and it was still not safe to come out to the streets. Yet, he couldn't stop himself. He could relate to every song played in the car. The google map directed him the way and he thanked,
"Thanks to Google map or else I could never dream of driving on an unknown path to reach an unknown girl with so much risk! However, I can only think of love at this moment than any risk."
It was 10 pm and the map showed two hours more to reach. The more he drove closer, the more he felt his heart beating fast and was full of excitement. He could imagine her sitting on the bed with just a piece of white sheet on her. His imaginations led him to the wildest thoughts.
She woke up suddenly with a dream of finding him near her and kissing her forehead. She smiled, looked at her mobile and thought of sending him a text to enquire about his arrival.
"Hi, where have you reached? Hope all well!"
He was pleased to see her text as somewhere he was also wondering if at all she would welcome him or it was just a telephone thing.
"Hey, sweetheart, one hour more and there I am to tear your clothes apart." He laughed and sent her his voice text.
"Fuck you!" she wrote back smilingly and rushed to get ready to receive him.
He couldn't stop laughing reading her text. He accelerated counting every minute.
She wore her above knee length floral skirt and a deep neck black top. She opened her tied hair, put slight kohl in her eyes and painted her lips with very light pink lipstick.
She picked up her car keys and moved out with excitement. Before taking out her car, she sent him a text,
"See you soon." I will catch you just in front of my lane. Note, the number of my car…"
He didn't expect this at all.
He could feel a strange sensation in his body out of excitement. The map showed him reaching nearer and nearer.
She took her car out and moved towards the entry lane to her building. She wondered if at all everything was happening in real. She pinched herself and spoke to herself,
"Damn, am I really going to meet someone I do not know and ready to welcome him? Is this all real?"
Smilingly she drove ahead with a mixed feeling of nervousness and excitement.
He was quite near and he stopped his car to brush his hair and put slight deo. He took out the chocolate box he had bought for her from the dash board and kept it ready on the codriver's seat. He drove ahead and could identify her car standing from quite a distant. He called her,
"Hey, park your car somewhere aside and come inside my car. Can't wait more."
"Where are you?" saying this, she lifted her eyes up and saw his car just ahead of hers. Hurriedly she parked her car just on the left, in front of a garden and walked fast towards his car.
He kept the door open so that she could jump in. He noticed her as she paced hurriedly towards his car and excitedly picked up the chocolate box from the seat and put it back inside the dash board. He didn't know what he was doing.
There she was. Without saying a word, she stepped in and closed the door. She was breathing fast. The moment she sat, she pulled him and locked her lips with his. It was so quick that he couldn't think of anything, but pulled her equally eating her lips and rolling his tongue inside her mouth. He pulled her hair kissing her like mad. They were lost in each other kissing each other wildly eating each other's lips. He licked her neck biting her ears as his tongue rolled in and out of her ears one by one and then back to her lips. Suddenly, they realized that they were kissing in the middle of the road. She pulled herself back breathing heavily and leaned on the seat. He was still under the jolt of what he encountered suddenly. He smiled and said,
"You are awesome."
She embraced silence breathing heavily and smiled without looking at him. She commanded,
"Drive…"
He surprisingly asked,
"To where…?"
(Where would she take him? Where will they go? Will he listen to her? To know more…keep reading!)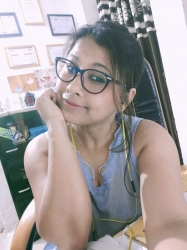 Latest posts by Mousumi Kalita Sachdeva
(see all)