"Wherever your steering takes you…" She spoke in a forced serious tone.
"If I keep driving, how will I look at you?" He asked innocently.
"I had told you if you remember, that I would torture you a lot till you go crazy with your hardness." She smiled and said.
"Your wish, my command…ready to follow your commands ma'am." He pulled the gears and started driving in the dark hours surrounded by darkness and silence with his love of life sitting just beside.
As he drove, he could sense a slight 'zip' sound. He quickly turned his eyes towards her to see her unzipping her boots. She pulled out her boots and threw them behind her seat. He smiled and said,
"Aah! Sit comfortably. No worries."
Suddenly, he was surprised to see her hands stretching up, and as he turned to ask her the reason, his eye balls popped out to see her pulling out her black top and throwing it behind.
She commanded,
"Eyes on the road please and hands on the steering. I don't want to die soon."
"By the way, I am scared. What are you up to?" He surprisingly asked.
"Turn your car towards the left. You will see a lonely road surrounded by huge trees on both sides. Driving is awesome on that route with only silence to witness our presence." She spoke firmly, yet with a smile.
He turned his car and entered an extremely dark area. He took a halt for few minutes to ask her about her astonishing plans. But his eyes stuck on her as she was unhooking her bra delicately carrying her dark, shiny long hair to the front as they carelessly fall on her right breast.
He gulped his saliva as his eyes widened to see her in such a state. He was not finding words to speak. He struggled and said,
"I am scared as I won't be able to drive any longer madam with you without your attire, sitting beside me and playing with my mind and heart."
She took her bra out, kept it aside and said with a horny voice,
"Am I troubling you man? I have not invited you to watch me. You may continue to drive."
He could feel the adrenaline rush in his body filling him with intense desire. He ignited the car engine and drove ahead towards an unknown dark route. He kept on driving until he reached a lonely grassy path. He stopped his car, took a deep breath and watched her as she pulled her skirt out. He couldn't believe his eyes. He could feel his manhood making him restless.
She demanded,
"Keep Driving…"
As he was about to start his car, he suddenly felt her hand crawling on his thighs and carelessly sliding down touching his hardness. He became red and hot. Without speaking a word, she pulled his zipper down and struggled to hold his manhood. He shivered helping her to reach his hardness.
She repeated,
"Keep driving…drive slow…but keep driving."
He obeyed.
His eyes fell on her black lingerie and craved to see the hidden jewels. However, he chose to follow her commands.
She bent towards him letting her bare shoulders touch him accidentally and her hands moved to open his jeans belt. As the car kept moving at a speed below 20, she comfortably unlocked his belt and unhooked his jeans.
He whispered as he struggled to move his steering,
"You are driving me wild sweetheart. You know the real art of torturing a man's desire."
She rubbed his hardness, struggled to put her hands inside his jeans and held his hardness tight making him moan in pleasure.
He couldn't drive more. He stopped the car, pulled her towards him all of a sudden and kissed her lips wildly. She struggled to free herself, but he pulled her seat down and forced on top of her hugging her tight. He kept kissing her as he held her hands tight with one hand and rolled his tongue inside her mouth. He pulled her hair, licked her ears and his tongue kept brushing on her neck up and down without letting her move. He released her hands and his fingers reached her underpants rubbing over her hidden petals. She breathed deep, struggled to release herself from his grip and with a force pushed him saying,
"No, not your turn now."
(Will she allow him to explore more? Will they get intimate? What is in her mind? Will he be able to make her his? To know more…keep reading.)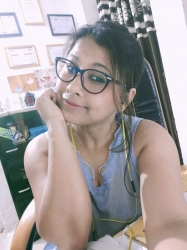 Latest posts by Mousumi Kalita Sachdeva
(see all)