Responding her command, he immediately released her and sat quiet breathing high on his seat. She looked at him and smiles.
Suddenly she got up, crawled to his side, pushed his seat behind and sat on his lap making him shiver. Her hands reached the adjusting lever of the seat and with their weight, the seat fell flat with a thud.
The warmth added fire to their bodies. He rubbed his hardness on her wet pink petals luring her to madness. He kept rubbing till his ears heard her moans.She reached his ears and whispered biting his ears,
"No…you won't…"
He could feel the torture meted out to his body and his desires. However, he had to obey.
He could feel her swollen breasts touching his face and her hard nipples caressing his lips. He couldn't resist his tongue to taste her erected buttons. As his tongue felt the taste of her tits, his mouth grabbed her breasts one by one, biting her nipples and making her moan once again. The fire in him was aggravated by her moans and he rubbed his manhood on her wet cunt, trying to push in.
She got up resisting him and jumped on her seat leaving him restless. He got a jolt and got up burning with desire and spoke,
"What are you upto? Don't you want me to give you the pleasure you have been craving for since long? Aren't you torturing yourself, and of course me the most…"?
She laughed aloud and said,
"On my Command tonight…"
"Command me to swallow you today, sweetheart…" he spoke with a horny voice.
She could see his red-hot pulsating manhood. She deliberately projected her rudeness and said,
"Start the engine and drive…"
He pulled his seat up and ignited the engine. As his hand reached the gear, her hands crawled on his chest and she started unbuttoning his shirt.
He was in extreme dilemma if he would pull the gear and drive or take the pleasure of her touch. She tore his shirt apart and ordered,
"You are supposed to drive ahead man…"
"On your command madam; here I go…"
He pulled the gear and picked up at a very low speed.
She looked at him and laughed at his agitation.
(Will he be able to control his desires any longer? Will he follow her commands or overrule? To know…keep reading…)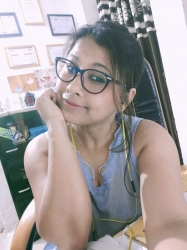 Latest posts by Mousumi Kalita Sachdeva
(see all)