They were entering into a lane surrounded by thick wood. It was dark all around except the moon witnessing their crazy drive and the car lights obeying the driver.
Amit drove slow and turned on to the country music suiting the best for their crazy romantic drive. The music added flavour to their burning desires. Suddenly Renuka put her naked shining legs on the dashboard trying to distract Amit. His eyes fell on between her legs only to add fuel to the fire burning inside him. He couldn't stop his left hand touch her welcoming thighs and slightly pressed turning her on.
Renuka gasped and spoke in a horny tone,
"Eyes on the street please…"
He took off his hand and stopped the car with a sudden break. He went out of the car to her side and pulled her out of the car to the front bonnet. Renuka couldn't get any idea about his moves and got a sudden jolt. He forced her with his chest and placed her on the bonnet, with his hands gripping her hands tight and swallowed her lips without letting her speak a word. He kept kissing her with his tongue rolling inside her mouth. Renuka seemed cold without responding to his moves. He released her hands and they stared at each other for a few seconds.
Renuka broke the silence,
"Do you intend to force upon me?"
Listening to this he immediately released her in shock. He said,
"Sorry…I don't mean…"
He couldn't speak any word further.
Renuka all of a sudden pulled him and forced him on the bonnet kissing his lips tight and said,
"On my command!"
He grasped are naked breasts and pressed them hard, kissing her back with his tongue tasting every bit of her mouth. His tongue tasted her earlobes biting her ears and his fingers playing with her hard nipples.She moaned with her nails piercing his shoulders and her tongue licking his neck and below biting his nipples turning him mad in desire. His hands reached her behind lifting her skirt and grabbing her soft round cushions. He suddenly pulled her and forced on her placing her on the bonnet now. His hands crawled inside her skirt, slowly moving his fingers to feel her wet crack. It was damn hot and wet. He kept rubbing her clitoris till she screamed his name, "Amit".
Suddenly she pulled his hands away from her wet clit, pulled his head to her hot wet lips below and commanded,
"Eat me…"
He devoured her red and juicy petals making her scream his name again and again…
"Yes…Amit…yes…"
Their bodies turned hot reacting against the cold chilled night under the moonlit totally engrossed in each other.
She pushed him aside suddenly and rubbed his hot red hard manhood. She bent down unzipping his jeans and held his tight rod out.His body shivered with a jerk and his eyes glued to her eyes. He held her long shiny hair to clear the obstruction between her face and his hardness. She could see the precum on the tip. Her tongue gracefully and gently slid over it making him moan aloud in desperation.
Suddenly she stopped and said,
"You should drive now…"
(Will he abide by her command? Will he drive ahead? Will they satiate their thirst for each other? To know more keep reading…)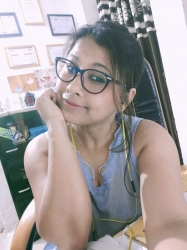 Latest posts by Mousumi Kalita Sachdeva
(see all)