One of the lightest fabrics used to make sarees is linen. It is a textile that comes from the fibers of the flax plant. Most ladies love linen sarees since they fit every season and occasion. The fabric is soft and comfortable on your skin. It is also sweat-absorbent making it suitable for the summer.
Linen sarees do not cling on your body but rather highlight your strongholds and conceal body flaws. The ability to absorb moisture makes them skin-friendly since they do not cause skin rashes. The fabric does not stretch easily. You can wear your outfit for years without it losing its elasticity. It is also easy to maintain since the material is stain-resistant making it easy to wash.
A linen saree, therefore, combines convenience, style, and comfort. They are also versatile and look gorgeous on women of all ages. You can experiment with various draping styles to achieve different effects from linen sarees. Unlike other saree fabrics, linen does not easily form wrinkles while draping.
They form perfect outfits for both corporate and casual looks. You can get linen sarees in unique colors to wear in different settings. With that in mind, let us look at some of the trendy designs of this type of sarees.
Linen cotton saree
This is a design that stands out among the list of linen sarees. Linen cotton sarees are comfortable on the skin and easy to put on. As the summer approaches, you should add one or two linen cotton sarees to your collection since they cool the body. They are versatile in that they are ideal for all body types. Online stores such as Style caret
provide pure cotton linen sarees at affordable costs. Feel free to wear this saree to the office or even when hanging out with friends.
Linen silk
A mixture of the two fabrics brings out a sophisticated attire that is perfect for a wedding.  Silk linen sarees are known to absorb a lot of moisture without making you feel damp. They represent elegance and class. They often feature golden borders which make them fashionable. The material does not stick on your skin.
If you have a pear-shaped body type, settle for linen silk sarees. You can choose a blend of colors such as grey saree, an orange blouse, and pallu. Match your outfit with a bold necklace and wear it during the festive season.
Designer linen saree
Are you looking for a designer saree to attend a gathering? Stand out among the crowd by choosing a designer linen saree. It features elegant embroidery work and hand print that gives style to your outfit. Such an outfit would not fail to grab the attention of an audience.
You can choose a designer linen saree in silver color and a golden border. It is ideal for slim ladies. Ensure that you choose a fancy blouse to complete the look and use minimal accessories.
Plain linen saree
You can wear plain linen sarees to work every day and still make a style statement. Feel free to choose blouses with contrast colors to add a twist to the plain linen saree. You can also pair it with matching accessories when you need it for casual purposes.
The fabric is easy to wash and store, so you don't have to worry about wrinkles or stubborn stains out of wearing your saree on a daily basis. Unlike other designs, this does not limit certain body types since it is suitable for all.
Hand-loom linen
Are you a career-oriented woman? You need classy outfits that don't compromise on comfort. Hand-loom linen sarees are comfortable since they absorb moisture quickly to prevent you from excess sweating in extreme temperatures.
They are traditional sarees that are durable and classy. You can wear them daily to work or also in casual settings. They also fit different body types as long as you choose the right size. Try to match your handloom saree with sleeveless chiffon blouses if you have a petite body.
Printed linen saree
One of the trends in the fashion industry is the addition of prints on outfits. Designers hand weave printed sarees to make them look unique and different. You can choose one that features digital prints, floral or even mural prints as per your taste.
Printed lined sarees are easy to drape and maintain. They look better when you wear them as a single layer instead of pinning flats on them. This design is ideal for the pear-shaped body. You can wear printed linen sarees daily as part of your casual outfits.
Jute linen sarees
This is a strong fabric that you can dye in any desired color. Though the texture is rougher than linen silk, jute linen sarees highlight your gorgeous curves. They are suitable for special occasions such as traditional festivals.
The natural fabric comes in different trendy designs to make you look elegant at every occasion. There is one that features a golden print throughout the saree. If you are tall and slim, do not overlook jute linen sarees.
Linen Jamdani saree
This is for the lady who loves a plain saree which contains a pallu that has a unique design. The body of this saree is slightly different from its pallu. It also includes Jamdani work which is a simple design on the border of the saree.
The linen Jamdani saree is suitable for all women despite their body shapes. You can wear it to work or at a casual meeting with your friends. Feel free to select a blouse that closely matches the color of the saree to complement it.
Bhagalpur linen saree
Any pear-shaped lady would also look pretty with this linen saree. Its cotton linen fabric is hand woven making it ideal for the summer. It offers a cooling effect during the summer to increase comfort. Though the body of the saree is plain white, the border contains green prints which add some style to the outfit. You can add it to your collection of casual wear.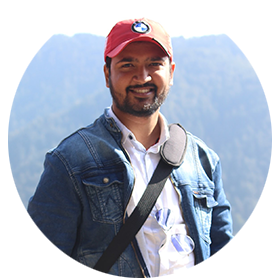 Latest posts by Amit Kumar
(see all)