We can't imagine a world without women. They hold a special place in our lives in the shape of a mother, sister, wife, friend. A woman is an incarnation of love and elegance. But this icon of love and affection have always been placed at the background. They could not find the same respect and position as males get. Their struggle and fight against gender-based discrimination has been going on for a long time.
In the early part of the 19th century, women raised their voice against this sex-based discrimination. Demonstrations were held across America and the Soviet Union with women demanding their right to vote and employment. Women's Day was celebrated to support equal rights for women. Bowing before the demands of women, the government of various countries gave suffrage rights to women. It was a great deal of achievement for women. Many countries started celebrating Women's Day from that time. United Nations(UN) choose 8th March as the International Women's Day. Every year Women's Day is celebrated on this day to commemorate the accomplishments of women in every field – social, cultural, and political. It is a day to honor womanhood.
International Women's Day 2019. What is so special about IWD2019?
Like every year, this year also International Women's Day is going to be celebrated on 8th March. The theme for IWD2019 is Balance for Better.
What is the meaning of that?
Well, Balance for Better is a campaign that aims to build a gender-balanced world. This campaign promotes the message of gender-equality and women empowerment. By Gender-balanced world, we mean a world in which there is no discrimination on the basis of the gender of a person. We need a balanced world in which men and women thrive together whether it is government, media, sports, wealth, or any such thing. We at Fourseven support this campaign. We have She-Shakti collections of silver jewelry dedicated to women.
This year's women's day is also special as Captain Marvel movie is releasing on the same day. The role of Captain Marvel will be played by the actress Brie Larson.
Women's Day has three main objectives:
Empowerment
Balance
Expression
Empowerment
We are quite familiar with the term Women Empowerment. Every other person claims that he or she supports women empowerment without exactly knowing the meaning of women empowerment. Women empowerment means women have the ability to make their own decisions and choose their life goals. Women are always considered inferior to men especially in the underdeveloped nations. There is utmost need to improve their condition.
How are you going to support women empowerment this women's day?
There are wide range of female empowerment gifts. Support women empowerment by gifting her Breakthrough Baalis in Turquoise. It is a symbol of women breaking all the stereotypes prevalent about women. Captain Marvel movie is releasing on Women's Day and there is no better chance to gift her Disney Captain Marvel Charm priced at Rs 1100. Plan a movie date with your loved one.
Balance
This year's theme is Balance for Better which broadcast the message of Gender-balanced world. It also honors a balanced woman who has the potential to manage the work life and the family life. Show your respect for a balanced woman you know this women's day by presenting her a Blue Lotus Charm. The one person who has done the most for you is none other than your mother. There is nothing that can repay for what your mother has done for you. Whether it is day or night, summer or winter, she always stood beside you. As a small token of love, present your mother a Mom Charm. You can also gift her a Mom Charm Bead Bracelet.
Expression
Expression or self-expression can be defined as the way by which we express our thoughts and feelings. The voice of women trying to express themselves have always been crushed. This women's day lets support women who are struggling hard to express their inner voice. Gift your woman expressions jewelry and accessories such as Odissi Dancer Charm. It symbolizes India's Classical Dance forms.
Make her Special with Women's Day Gifts
Fourseven celebrates the occasion of womanhood with She-Shakti collections as Women's Day Gifts. Make choice from an extensive range of unique collections of silver jewelry hand-crafted in India. Choose eloquent gifts for the woman you love the most such as the Road Not Taken Message Ring giving a powerful message or the I Will Survive Charm giving a message that I will survive after crossing all the hurdles.
Another great option for gift items for women's day is the Invincible Queen Necklace. This will surely give your girl a queen like feeling.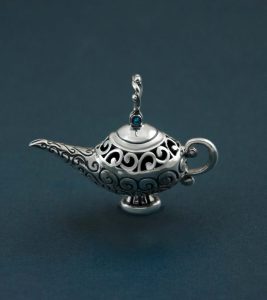 Unique International Women's Day Gifts
The gift should be such that one can remember it for a long time. While chocolates and bouquet are common, gift her a stylish expressive jewelry. Breakthrough Post Dangler Earrings in Purpose is a good choice giving a message that a woman can break through all the social norms. An elegant Three Wishes Genie Lamp Pendant is another good choice to look for.
Don't just celebrate Women's Day as formality, celebrate it to honor the achievements of women in all walks of life.