Arvind Narsima , Influential Authors Of India. By profession he is an Author . In an interview with YoursNews, He shared his  success story.
1. Can you tell our readers about yourself and your profession?
I was deprived of higher studies due to poverty and domestic issues between my parents. I started working after higher secondary, despite huge expectations over me on academic career by my teachers, relatives and family friends. For meager payments, I have worked in cloth shops, street side shops, as office boy in private offices and as a bottles collector in a bottling plant. Meanwhile I kept alive my inquisitiveness to gaining knowledge and my reading habits. God showed mercy upon me and I gradually started showing progress.
I then worked as Branch Manager for bigger companies like Nippun Cranes Limited, Premier Seals, The Professional Couriers and lastly in Flexol Packaging, a TVS group company, as the Logistics Country Head. The path I came wasn't an easy one. For 5 long years I struggled with poverty, inadequacies and hopelessness. But with patience, perseverance, hard work and honesty, God turned all the things in my favor. Here I am!

2. Describe how did you first got into your profession?
I had written many poems, small stories and skits during my school days. The skits I'd written were also enacted then on stage. After school life changed its course and the soft poet / writer sulked deep inside not able to withstand the sudden onslaught of harsh practical realities of real world. Twenty years passed and I never thought I could write again.
It was mid September, 6 years before, when all of a sudden, something woke inside me and I opened my laptop to type. Never looked back…. two Novels already published and received well, two short stories published in anthologies, two more novels about to be released this year and I'm writing my fifth book right now.
3. Can you tell me some of your strengths that really helped you in profession?
I used to read like someone possessed. Even during my days of struggle, right from the age of seventeen I always carried books. I may not have money to buy me food but always saved to purchase used books cheaply from roadside. From age of 17, for five years, tea and bun mostly constituted my meals, along with books, of course. I worked for 18 – 20 hours a stretch but still had time to read. I believe that was my building block that later took shape eventually landing me into the world of writing.
4. How would you describe your professional style?
My fans, my readers, critics, editors and other authors have always appreciated the way I wrote, the lucid version of the language and style of story telling which differs hugely from other contemporary authors like ChetanBhagat, Ravinder Singh, DurjoyDutta or others for that matter. Many have given me the epithet, 'Indian Dan Brown' which I did like but I always wish to be called by my own name. I intend to be known for my own unique way of writing.
5. What would be your ideal working environment?
I usually sit with my laptop after 11 pm till 2 or 3 am. The silence of the nights reveal everything lurking inside me ( ha…ha…ha… )
6. How do you manage time to run your profession?
As I said, I always take time for my writing and reading after 11 pm, the time wherein my daily choruses end ( almost ). I normally start my day at 5.30 am. The hectic schedules drain me completely of my energy, both physically and mentally but then, I become a new person once I sit with my creations. I feel unimaginably rejuvenated; a deep arousal filling me, as words start to flow out.
7. How do you want to improve yourself in the next year?
I still have to read more and more. I need to improve on my writing, the way the 'Bard' or 'Shaw' would have built themselves. I am a huge fan of Robert Ludlum, Forsyth, Archer, Grisham and Cussler. My dream is to have a worldwide fan-base like them, which I shall have very soon. God is great.
8. What was your greatest failure and what did you learn from that?
I met with many failures in life and always learned hard lessons from them. Since every lesson was important and instrumental in making me a better person, I can't pin point any one of them in particular.
9. Tell me about your proudest achievement?
My 2nd book was adjudged as the best book of the year 2018 several times. It won 'The Literary Oscars, 2018', 'Global Author Of The Year, 2018', '100 Influential Authors Of India, 2018' and got nominated as the best book in the 'Gurgaon Literary Fest, 2018'… Despite all these awards, I think the greatest achievement was to win over the hearts of hundreds of fans, readers and well-wishers. There was a time when I longed to be loved but now God has given me that abundantly.
10. Who has impacted you most in profession and how?
After I had read 'The Immortals OfMeluha' by Amish, I thought "Why not?" It was the moment which marked the birth of an author. It was the simplicity of the book. I was always obsessed with foreign writers and that was the occasion wherein I read through an Indian Author. A spark ignited the fire which never stopped ever since.
11. What is your greatest achievement outside of profession?
My family, my friends and the eternal, undeterred bondage with my God almighty is my greatest achievement.
12. What you want to share for reader (anything).
Keep reading my books and never stop loving me. Connect with me on Facebook, Twitter and Gmail. Know more about me and my books through Google search and Yahoo Search. My next dream project, a huge entertainer ( as quoted by all my Beta Readers ) " THE CHOSEN ONE " is getting released coming May, 2019. Enjoy your summer holidays with Professor Surya Prakash, the protagonist and DevanayagamIlayaman, the devil himself.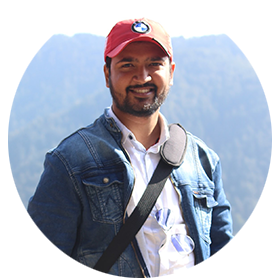 Latest posts by Amit Kumar
(see all)