Christmas is the festival that brings too much joy, happiness and sweetness in our lives towards the end of each year. As December arrives, everyone starts with Christmas preparations which include shopping, decorations and yummy Christmas sweets like cakes and cookies. Along with all these things, we also plan to give gifts to our family members, friends and office mates. However, we often get confused and can't decide what will be the perfect gift for a particular person. We want the gift to be unique and the one capable of bringing a smile on the faces of recipients.
So, here is a list of a few amazing Christmas gifts that can be presented to your loved ones in this festival time.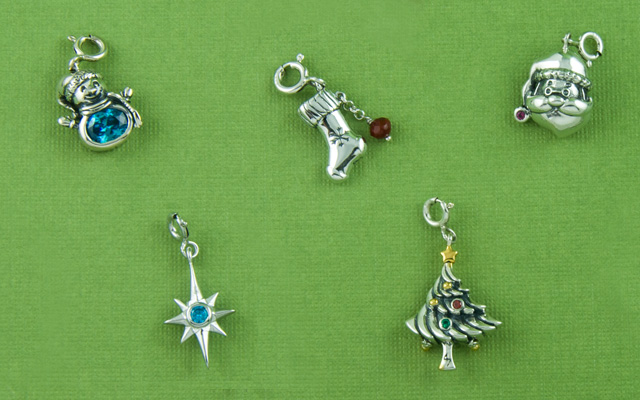 Christmas Collection- You can make your loved ones feel happy by presenting them with a special gift from Christmas collection. You have many people in life including your sister, brother, parents, spouse, friends and many others. You can make their Christmas special with these meaningful gifts like Christmas charms, studs, bracelets, wine charm sets, earrings, neckpieces, holy brooches and many other things that are specially meant for the festival.
Gift for Her- Are you planning to gift something unique to your lady love? Well, what else will be a special gift for her than gorgeous jewellery? Designer jewellery can be one of the most special Christmas gifts for any women. Think about which type of jewellery your lady loves the most. From beautiful earrings to anklets, necklaces and charms; you can gift her anything she loves the most. You can also gift her a beautiful pendant with the silver chain as silver jewellery is on high demand these days. A gold plated, or silver ring can also be a great choice.
Gift for Mom- A mother has a very special space in everybody's life and hence the gift you want to give her need to be extra special. All the moms are fond of beautiful jewelry, and it can be one of the best Christmas gifts for her. You can show your affection towards your mom by gifting her beautiful studs or pendants as well as charms that has the designs defining the relationship between a mother and her child. You can even gift her cuff bangles or brooches that she can wear with her saree or formal jacket. Get the idea about which type of jewellery your mom loves the most and gift her anything unique from that particular category
Gift for Him- Although men are not very much fond of jewellery, this trend is changing slowly, and these days they love to wear bracelets, studs, rings and several other jewellery pieces. So, if you are willing to gift something to your loved one this Christmas, go for the men jewellery. A contemporary yet classic jewellery piece can be one of the finest Xmas gifts for him. You can choose a bracelet, or cufflinks or even a pendant if your man loves to wear it. Studs and charms can also be great choices.
Gifts for Home- If you are looking for Christmas presents to be given to a family very close to your heart, you can go for some amazing gifts that will be useful for their home. A Tealight holder or a Christmas wine charm set or a beautiful miniature Thali can be your options for christmas gifts for Home.
Now, when you have got the idea about what you can gift to every person in your life specifically, it will be easy for you to choose Christmas gifts for all of them. So, go ahead and make the Christmas more joyful with these meaningful gifts.