Today we are going to introduce A Foodie and Socialite from Software Industry – Khushbu Gupta.
She is level 11 Super Foodie reviewer for Zomato  (@gupt_khush).
She also has been part of Foodwarz food group since 2017. She loves to travel and try various cuisines. She is also a wine-lover and enjoys dancing in good company.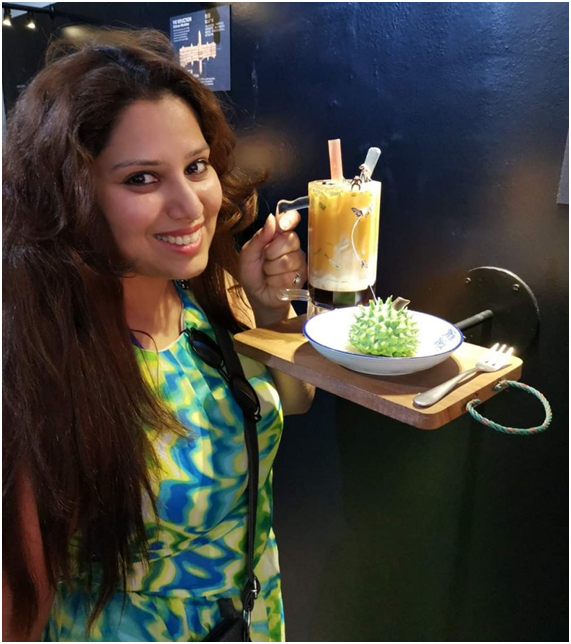 1. Can you tell our readers about yourself and your profession?
Hi, I am Khushbu Gupta. I work as Senior Manager at Adobe. I have over 16 years of professional experience in Software, Digital Publishing and eLearning industries.
I am Certified Lean Six Sigma Black Belt from American Society of Quality. I pursued leadership program from Indian School of Business Hyderabad.
2. Describe how did you first get into Your profession?
I took up multiple short term professional assignments to gain industry experience first handalongwith my full time education during school/first degree years in early 2000s.
This included:
1 – being communities moderator for an online youth portal (pre orkut/Facebook era),
2 – working part time for The Times of India in their Results and Marketing Division, focusing on readers relationship and expansion of market share.
3 – working as a columnist for a national bilingual tabloid.
4 – working for business development for an advertising agency.
These assignments helped in landing internship in Public Relations (Protocol) department at Maruti Suzuki at Gurgaon. It's a great place to learn industry best practices from Japanese management culture.
Right after graduating with my first degree in management and computer science, I joined my first full time employer Thomson Digital (India Today Group Company) in Project Management team.
3. Can you tell me some of your strengths that really helped you in profession?
Diligence
Patience
Integrity
Communication
4. How would you describe your profession style?
I solve complex problems through simple logical structures. Also, collaboration is the key to success.
5. What would be your ideal working environment?
Peaceful and Positive
6. How do you manage time to run your profession?
My life revolves around my work.
7. How do you want to improve yourself in the next year?
Continue to focus on peace.
8. What was your greatest failure and what did you learn from that?
None and that's because what some may call a failure, I call an opportunity to rebalance, be resilient and bounce back stronger.
9. Tell me about your proudest achievement?
While a lot of folks may say that grades or percentages in school/college dont matter these days.
I still would say, scoring highest in university for my degree in management and computer science was my proudest achievement.
It gave me a great sense of accomplishment at an early age and also gave me confidence that if want to achieve something I can achieve it against all odds with my hard work.
10. Who has impacted you most in profession and how?
My parents have played a big role in my profession. Without their support and encouragement I wouldn't have been where I am today.
11. What is your greatest achievement outside of profession?
Getting the Distinguished Toastmaster title. Being part of multiple communities and being able to connect with people from various walks of life.
For more details :-
Visit FB- https://www.facebook.com/Khushbu.GM
Instagram- https://www.instagram.com/closet_dork/
Linkedin – https://www.linkedin.com/in/khushbu-g/
Follow my food journey on @Zomato! — https://zoma.to/u/25648