Nandita Chakraborty, a promising professional singer belongs to Kolkata – 'The City of Joy' well known for its musical heritage. She performs Hindi melodious songs, Gazals, Bhajans, melodious tunes are appreciated by many music lovers in India and abroad in recent Years.
Nandita born in Allahabad, famous for its Classical Gharana Heritage. She had a passion for music from her childhood and it always runs deep in her. She successfully completed 'PRAVAKAR' classical music course from famous PRAYAG SANGEET SAMITI Allahabad. She expertised herself in Hindi classic melody songs, Ghazals, and Bhajans. After her relocation in Kolkata, she got TAMIL from Late Tarun Mukherjee, Suman Gupta, and Amit Roy. She completed a course from Banichakra for Bengali Songs.
Nandita – Her Passion for Music and Journey towards Goal.
*  Her audio Cassette of Hindi devotional songs along with some leading singers of Mumbai under the music direction of Bharat Sen was released in 2002 in Mumbai.
*  Her Audio CD of Mirabel Bhajans was released from RAGA MUSIC PVT LTD, Kolkata in April 2007.
*  She has been performing Hindi Classic melodies, popular film songs, Ghazals and Bengali modern songs in different parts of the country.
*  She has performed her music at all the leading clubs and 5 Star Hotels in Kolkata,
*  She performs her music at Stage shows, Private Programs, Events Marriage Parties Club, and Hotels.
*  She toured abroad and presented Ghazals and Hindi Old melodies for a couple of months in a country like Qatar (Middle East), Hotel CHINGARI.
*  At Present she has been associated with Hotel Hindustan International, Kolkata and performing theme as KALASH on regular basis.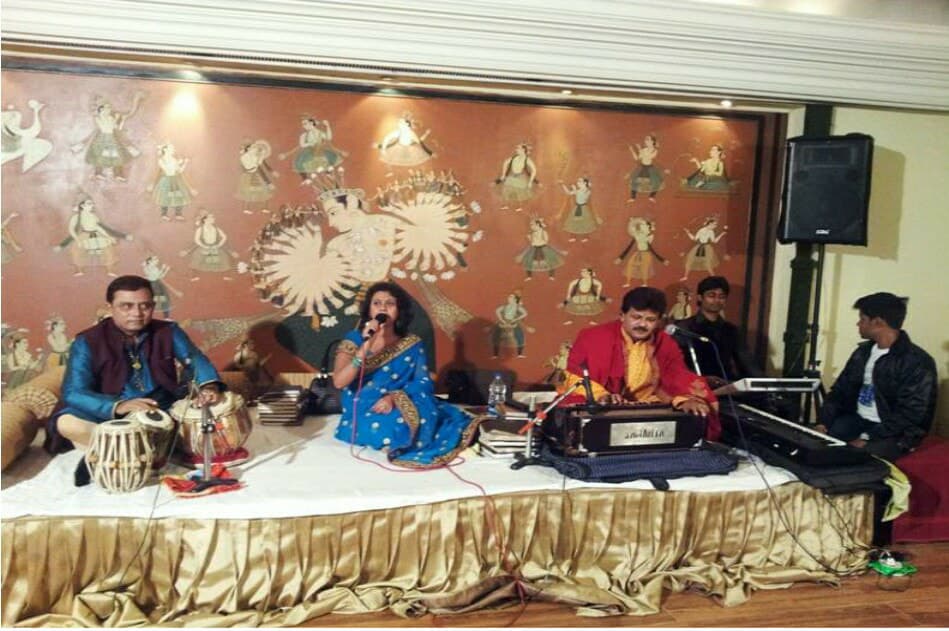 Must Watch Her Video