Style
Stay cool with Linen this Season
The luxury of Linen as a fabric is unmatched which makes it so desirable. It is tremendously absorbent, smooth on the skin and environment-friendly in cultivation. Clean cut, deeply colored linen that creates a minimalist aesthetic is in trend.
While cuts, colors, shapes, and lengths change often, the everlasting coolness of linen is perfect for hot weathers. It's breezy and lightweight and only gets softer with each wash. Linen and summers go hand in hand and that is why it's every woman's best friend in the summer.
Celebrating our common love for linen, here's a look at the season's top picks:
1.Striper Linen Shirt Dress
Nothing says summer quite like an easy-breezy linen dress. Fortunately for us, the Striper Linen Shirt Dress by Post fold is just the perfect match. No matter whether you're wearing it to a semi-casual day at the office or a Sunday brunch with the ladies, it is guaranteed to blend in effortlessly. Pair it with nude flats or strappy sandals for an ultra-chic yet casual look.
2.The Floral Collared Shirt

If you're looking to buy linen shirt that'll look good on every occasion, your quest ends here. Classy and fabulous, this Floral Collared Shirt boasts of cross stitch detailing on the collar. The immaculate embroidery elevates the piece from being an ordinary white shirt to an OOTD worthy outfit. You can pair it with trousers for a formal look or alternatively, match it with denims if you're heading for a relatively casual affair. Not to mention, the versatility of white – it'll look classy no matter what you pair it with.
3.Midnight Blue Culottes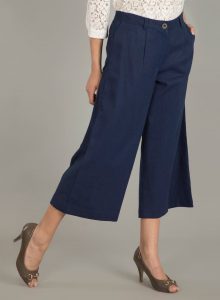 If you're feeling light and comfortable with what you're wearing, you've got summer clothing just right. These billowy pants are unbelievably comfortable, super versatile and look good on every shape. They work for work wear and lounge wear alike. The flattering structure has made waves across runways, with a number of fashionistas vouching for its vogue-ness.  The Midnight Blue Culottes by Post fold can be dressed down just as easily as they can be dressed up. Pair them with a fancy blouse as you make your way to a sunny Sunday brunch. And if you listen to the pros, don't hold back from having some fun when styling this fantastic pick.
4.Linen St-riper Top in Navy Colour
A linen shirt is a brilliant all-rounder when it comes to breezy summer dressing. With its laid-back yet chic appeal, you can match it with a pair of jeans or trousers. The Linen Striper Top in navy colour is perfect for a fresh 9 to 5 look. It's bound to look praiseworthy with white pants and flats.
When you're online shopping for women's apparel, don't miss out on linen pieces that make for beautiful and natural clothes for summers. Once you get used to its effortless style and texture, you'll find it hard to not to choose linen. It's your best shot in summers to feel easy, comfortable with a dash of confidence!