Festivals
The Great Night of Shiva, Shivratri
The whole month of "savan" is dedicated to Lord Shiva but another day associated to Lord Shiva is Maha Shivratri. Maha Shivratri that in its literal terms translates to " great night of Shiva" is a Hindu festival largely celebrated in India and Nepal. As per the Hindu calendar, it is celebrated on the new moon day in the month of Maagha.
The Legendary Story Associated with Maha Shivratri
There are many mythological legends associated with this day. One of the popular legends states that when a hunter could not find anything to kill for his food in a forest he climbed on a branch of Woodapple tree. To attract the deer, he began to throw the leaves of the tree on the ground, unaware of the fact that there was a Shiva Lingam beneath the tree. Lord Shiva got pleased with the leaves and the patience of hunter, Lord Shiva appeared in front of the hunter and blessed him with wisdom.
From that day onwards, the hunter stopped eating meat and the cooking Shivratri special recipes on an auspicious day began.
Another legend also states that when Goddess Parvati asked Lord Shiva about his favorite day he answered Shivaratri.
How is it Celebrated?
It is important Hindu festival, celebrated to venerate Lord Shiva, an important deity from Hindu culture. People fast on the night of Shivratri and enjoy the delicious fasting recipes or Shivratri special recipes like " rajgiri ki puri" or " sabudana khichdi" or the yummy " sabudana vada". People sing hymns and praises in the name of Lord Shiva. People indulge in chanting three words " Om Namah Shivay" to invoke the Lord.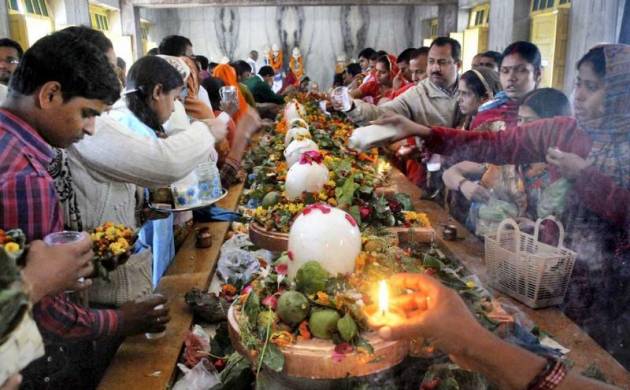 The temples across the country are decorated with lights and people offer night long prayers to Shiva Lingam. Woodapple leaves, water, milk, rice, honey, and fruits are offered to Shiva Lingam on this day as they are Lord Shiva's favorite.
Importance of Maha Shivratri
It is firmly believed that people who fast on this night and consume only Shivratri special recipes and offer prayers to Lord Shiva it brings good luck into their lives. If an unmarried girl observes the fast she gets the desired husband and if a married lady fasts her married life becomes harmonious.
Maha Shivratri Customs and Traditions
As my mother was a pious lady, she always made me observe this fast, so that I get a good groom. However, my reason for fasting was my love for the aromatic and delicious fasting recipes that were cooked on that auspicious day. The fasting begins on the morning of Shivratri and ends the next day morning or the Amavasya morning.
As it is long Upvass or vrat, many people consume a Shivratri special recipes known as " phalar".
The famous "sabudana vada, or the sago khichdi or rajgiri parantha " topped my list of delicacies. When a devotee fasts with pure mind and soul and consumes the auspicious recipes he detoxifies his body and cleanses himself of all the sins.Happy Shivratri to all may Lord bless you all and fulfill all your desires.