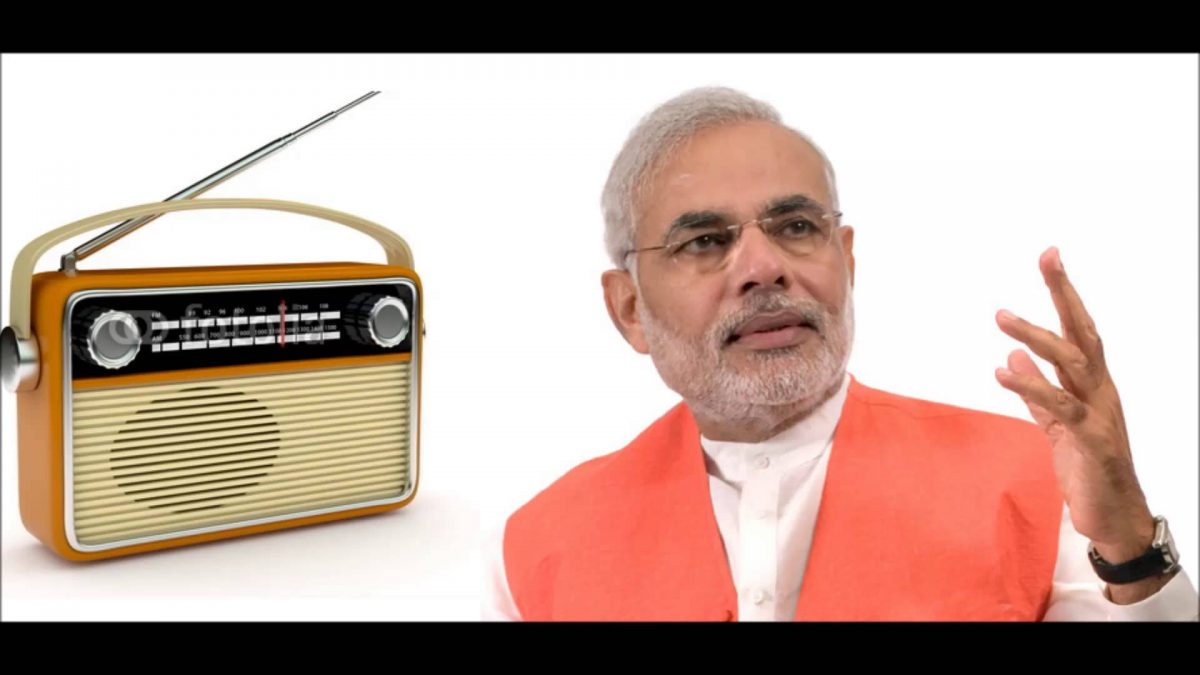 Live Update:-
7 Race Course Road is now 7 Lok Kalyan Marg, residence of @PMOIndia, Lok Kalyan means welfare of all people: PM Narendra Modi in mannkibaat
mannkibaat should not become a political platform. It should not be a platform for government propaganda : PM Narendra Modi in mannkibaat
This year several NGOs, schools & corporates are celebrating 'Joy of giving week' from Oct 2-8: PM Narendra Modi in mannkibaat
Wing commander Paramveer Singh swam 2800 kms, from Dev Prayag to Ganga Sagar in order to spread message of cleanliness: PM Narendra Modi in mannkibaat
I urge youth to come up with relevant new startups about "Waste to Wealth" Model: PM Narendra Modi in mannkibaat
On 2nd October (Gandhi Jayanti) this year, you all can join cleanliness drive. You can devote 2-4 hours for it: PM Narendra Modi in mannkibaat
2.48 crore toilets built in the rural areas in last two years. 1.5 crore more will be constructed in next year. PM Narendra Modi on mannkibaat
Use the number 1969 to know about the progress of swachhbharat. The number can also be used for requesting work in your area – PM Modi in mannkibaat
Thousands of toilets have been built, especially Andhra Pradesh, Gujarat and Kerala are inching closer to ODF status: PM Modi in mannkibaat
PM Narendra Modi recollects his "priceless moment" spent with gauri in navsari. mannkibaat
Best ever performance at paralympicsrio2016 changed our perception of – PM Narendra Modi in mannkibaat
Peace is necessary to move on the path of progress, for the future to be prosperous. PM Narendra Modi in mannkibaat
Several people wrote on @mygovindia and the 'Narendra Modi App' urging me to talk about paralympics, says PM Modi in mannkibaat
PM Narendra Modi reminds Lal Bahadur Shastri's motivational stand during 1965 war with Pakistan which called people to unite for the country and gave a slogan Jai Javan Jai Kisan. PM Modi in mannkibaat
Prime Minister @narendramodi addresses nation through his 24th edition of #mannkibaat
The martyrdom of soldier is not just loss of their family but of whole nation, the culprit shall not be spared – PM Modi in mannkibaat
Sena bolti nahin hai, sena paraakram karti hai – PM Narendra Modi in mannkibaat
We belive in our Indian Armed forces they do not speak they take actions – PM Narendra Modi in mannkibaat
Disturbed by uriattack, youth named Harshvardhan pledged to study for three more hours daily and to become a good citizen: PM Narendra Modi in mannkibaat
Peace and unity is the road to progress. Kashmir's security is the government's responsibility: PM Narendra Modi in mannkibaat
The culprits of uriattack will definitely get punished. PM Narendra Modi in mannkibaat
I pay my tribute to to 18 martyrs who lost their lives in coward Uri attack, says Prime Minister Narendra Modi on Mann Ki Baat.
Mann Ki Baat completes two years, PM Modi to address its 24th episode
PM Narendra Modi will address 24th episode of his radio programme 'Mann Ki Baat' on Sunday. The programme will complete its two years.
PM Narendra Modi will address 24th episode of his radio programme 'Mann Ki Baat' on Sunday. The programme will complete its two years.
The second anniversary episode of the monthly radio show of the Prime Minister comes in the backdrop of a range of controversies, including the gruesome terror attack in Uri.
Prime Minister Shri Narendra will share his thoughts on a number of themes and issues in 'Mann Ki Baat' on Sunday at 11 AM. Tune in to hear 'Mann Ki Baat' live on Narendra Modi App.
'Mann ki Baat-Part 24'
(PM on Radio)
on 25th September 2016
at 11 AM IST
In Sunday's episode, PM Modi is likely to share his plan to give a stern reply to Pakistan for recent terror attacks in Kahsmir which claimed the lives of 18 Indian Army soldiers.
The radio address is broadcast by the entire network of AIR, including all stations, all AIR FM channels (FM Gold and FM Rainbow), local radio stations, Vividh Bharati Stations and five community radio stations as well as a few private radio channels.
The radio programme aims to deliver the Prime Minister's voice to the general masses of India.
The United States President Barack Obama was also a part of the January 2015 edition of 'Mann Ki Baat'.
The first 'Mann Ki Baat' programme was broadcast on the occasion of Vijayadashami on 3 October 2014. He urged the listeners to purchase Khadi clothes to contribute to the prosperity of the poor. He also discussed the Swachh Bharat Abhiyan, the success of India's Mars Mission, skill development, disabled children and MyGov.in website, in his first 'Mann Ki Baat'.
His last radio address was broadcast on August 29 where he paid tribute to Major Dhyanchand, recalled his contribution to Indian hockey and lauded our sportsperson on their performance in 2016 Rio Olympics. He also announced that a sports committee will be organized, to make road map for upcoming Olympics.
In what became a 'Mann Ki Baat' with the people of Pakistan, Prime Minister Narendra Modi invoked the pre-Independence connection with India, and called for a war against poverty, illiteracy, and unemployment.
I want to remind the people of Pakistan that before 1947, your ancestors called this land their home. I want you, the people of Pakistan to question your government. They are unable to handle their domestic crises in Gilgit, Balochistan, and Sindh. They failed in east Bangladesh, but want to rake up Kashmir? Ask your government to first put their own home in order before worrying about Kashmir. " Said Modi"
PM Narendra Modi expected to address the nation on Cauvery water-sharing dispute
Public broadcast channels like Doordarshan, DD News, RSTV would air the show live, along with the private news channels. The show would also be available on major radio platforms including All India Radio (AIR).
Prime Minister had invited suggestions for the topics he should discuss at this this edition of Mann ki Baat. Citizens were recommended to upload their suggestions on mygov.in or the 'Narendra Modi App'.
Many of the netizens are still gripped with the feeling of resentment caused due to Uri terror attack. While many users have urged Modi to address the nation on what steps the government would take to retaliate the assault, others have offered a list of suggestions for helping the families of the uri martyrs. One online user has requested Prime Minister Modi to release the bank account numbers of the immediate kin of Uri martyrs, which would allow people across the nation to financially aid them.