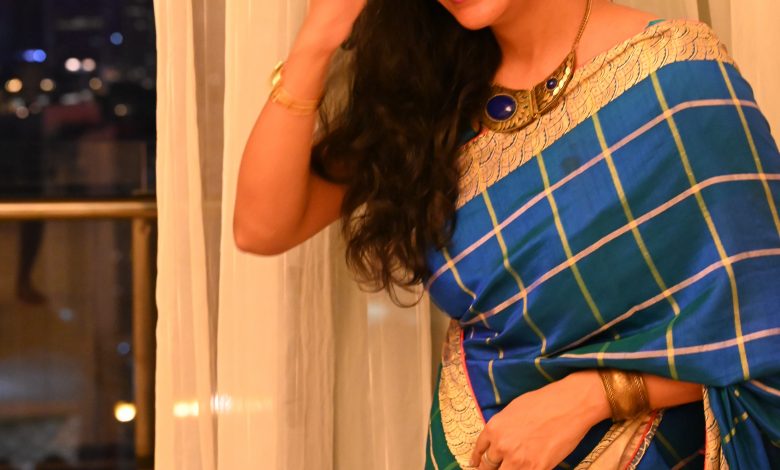 Starting from the archives…Megha describes her journey through 'Miss & Mrs Saree Queen 2021' contest is filled with lots of learning and fun. Looking back, she describes that her life was'routinely', pretty much limited to her 'comfort zone',during this pandemic phase and lock downs. For a person like her who loves to travel, adventure, explore new places,socialize with people and attend social gatherings,this opportunity came as a blessing. She recalls that when she saw the advertisement of Miss & Mrs Saree Queen, she thought this might be the opportunity and could give her different experience. She was excited about the theme of the contest which is "Saree" and showcasing Indian culture.
She applied and after preliminary selection process, she went through jury interview and made her place as the finalist of this contest.
Megha Jaiswal is a jovial, social person with a positive attitude toward life. She is from the 'Land of Lord Shiva'- Deoghar, Jharkhand, India. She is currently staying in Malaysia with her husband and a two-year-oldbubbly baby girl. She is an MBA with 5+yrs of exp working with MNC across various locations in India. She loves to do painting and been an athlete in past. She has won various accomplishment across different games. Her passion is travellingand research about the places. So, to share the experiences, itled her towards blogging. She started her blog (https://healthymerrylife.blogspot.com) and YouTube channel -Healthymerry Life for kids.
She strongly believes in "Think positively and it will happen".
She recalls that post-delivery she couldn't continue her corporate life as she has been busy in raising her princess and COVID pandemic made her life little busier.Even she didn't bother what's behind the closed wardrobe. But now she and her wardrobe both are in action.It has been exciting but uneasy to manage the tasks, sessions and babyat the same time. But her strong will power and husband support didn't stop her. With limited time to complete the tasks, the contest gave her run for the money and time management.
She lovedeach and every moment of the inspirational online sessions by the experts and the knowledge sharing discussions which were single handed organized by Sara,be it saree draping,make up, vision, social media, Yoga, life coaching, motivational session or ramp walk sessions, these all had brought a new level of intensity in her and lifted her spirit. Content of courses was well designed and all the session are very motivational and informational and helps in getting over hesitancy. These all have made her stronger, look beautiful in the elegancy of Indian attires which is stylish and a perfect blend of traditional and modern look.
Saree queen platform for her is a life time experience and is going to be marked with new alliances formed. She's grateful to sara and pleased to take this path. She's excitingly looking ahead for the rest of the journey.