Happiness, stress, ecstasy or depression, it's all a mind game. As long as our mind is under our control, everything else is. That's what The Mind Game is all about. It is not an average self-help book that preaches life-enhancing methodologies based on complex science or long philosophical verses. The book's genius lies in its simplicity. It offers quick, actionable and instantly applicable tips that will help readers lead better lives – instantly.
The Mind Game
The book begins with five ultra-practical steps that will help readers master their emotions. Emotions are strange. They make us human. They make our lives real. They make us different from robots. Yet, many disasters in our lives result from uncontrolled emotions or because of emotional wounds from painful experiences.
By helping readers master their emotions, this book aims at making them strong, enabling them to make rational decisions. Readers will be trained on how to feel, face, control and protect their emotions. They will also be enlightened on the importance of EQ and how they can upgrade it. The book then acquaints readers with techniques of analyzing people through effective questioning in routine conversations and understanding personality traits.
By applying these methods, readers can develop fruitful relationships at work and home. The third section of the book deals with living better lives with lesser resources. Using famous examples of Steve Jobs and Mark Zuckerberg, readers are made to understand the value of simple living and high thinking. It will also help readers make the best first impressions and use non-verbal communication to their benefit.
Next, readers are led into understanding the secret of happiness. It first explains how readers can attain divine happiness, how to tackle stress and depression and how to become happy in a jiffy.
The book devotes an entire section to anger. It explains what anger is and how readers can control anger to sort out issues cordially and live peaceful lives. It offers anger management strategies for the workplace and home. Lastly, the book ends with a very comprehensive section on achieving happiness at the workplace.
It shows the importance of being happy at work, how happiness helps increase productivity, how to build self-esteem and keep employees motivated, and most importantly, how one can be happy in the workplace.
At the end of it all, readers will be left feeling motivated, happy and optimistic about their lives. The tips mentioned in this book have been applied by the author in her real-life experiences. She hopes through this book, she will be able to help other individuals in dealing with the daily issues or tough challenges of life and solve them amicably. Crests and troughs are present in each one's life.
What if we learn to accept the happy moments as well as the tough phases in the same breadth, wouldn't life be happier then? The Mind Game is a self-improvement guide, written with an objective to create awareness about mindfulness and the importance of understanding emotions for an individual.

About The Author
An award-winning poet and author, Devika Das has 5 publications under her name. Her recent title 'The Mind Game' has received appreciation from India and abroad as well. What began as a hobby at the age of 13, graduated into blogging in 2008 and took shape of Publishing in 2016 when Devika self-published her first book titled '7 Vows of Marriage' on Amazon Kindle.
Her poetry book titled 'Reminiscence' has received critical acclaim and her poems have been published in national dailies and featured in anthologies too. She has participated in key literary events at Hyderabad and around India as well. Besides writing, Devika pursues her passion for Acting and is an active theatre artiste in Hyderabad and has featured in several short films.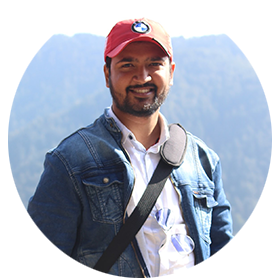 Latest posts by Amit Kumar
(see all)