If you hand an Indian lady a few leggings or trousers and some Kurtis, you have sorted out their wardrobe for quite some time, because the outfits are very versatile, can fit well in a multitude of situations, and are quite comfortable to wear. In fact, it is not just popular with a certain age group of women; Kurtis are very popular among multiple age groups and have even cemented themselves as an iconic piece of Indian fashion.
However, do you know that Kurtis actually come in different types and have different styling guidelines? In case you do not know about this, we delve into it in this article.
What are Kurtis?
This is a term referring to blouses, jackets and waist coats, whose hem sits above the waist. However, they do not have slits on their sides, and are different from a choli because they do not leave the waist exposed.
It is important to know that not all Kurtis are created equal – some fit certain body types more than others. You no longer have to limit yourself to a few limited choices when you are a plus size woman.
With the increasing trends in online shopping there are various options available for plus size kurtis.
High-low Kurti
These are a variation of the asymmetrical Kurti, but they have a straight hem and little definition. Their structure makes them the most versatile of all kurtis, as they work well for all body types – but you should avoid them if you are heading to the office or a formal occasion.
Tail cut Kurti
These are quite similar in appearance to asymmetrical kurtis, but their back is slightly longer, and their design is suitable for special events and parties. They are suitable for a variety of body shapes, especially hourglass, inverted triangles, petite, rectangle and pear shaped women, but not good for apple-shaped women.
Flared Kurti
These are quite elegant and chic in appearance, and you can wear them as every day wear or when you are going to a formal party. The reason that they have some 'bounce' is because of the open hemline on both of their sides, and it also makes them quite attractive.
The best body shapes to go with this are the triangle, round, pear and apple shaped women.
Front slit Kurti
If you are bored with the idea of getting a regular Kurti, this is a nice alternative that introduces a subtle change to make a major difference. Instead of using a side slit, which is the usual pattern, it goes for front slits. When you pair them with palazzo pants, you can stand out instantly.
However, avoid it if you have an apple body type or going for a formal occasion. It will work well though for petite ladies, tall women, hourglass, pear, and triangle body types.
Kaftan Kurti
This is quite a comfortable and airy design, and does a good job of hiding an unflattering abdomen area – making it great for apple body types. However, its open design makes it unflattering for petite women, as well as when you are attending formal events. On the other hand, it goes well when going to a party, heading to college, or just as every day wear.
Straight cut pin tuck
Pin tucks are very subtle yet elegant elements of design, and they seek to add some sophistication and charm to your clothes. It also works well with specific fabrics – in particular handloom, Chanderi or cotton. Since there are numerous variations you can get through this detail, you can easily find something that works well for you – even if you are a plus size woman.
In fact, this is among the most versatile Kurti types on this list, and the only instance it might not work well is when you are going to a party because it is too unsophisticated. It also goes well with palazzo pants, straight cut pants and culottes.
Shirt Kurti
These are quite common, due to the comfort and versatility they offer. They are also the best blend when you are combining contemporary fashion with traditional outlooks, making them very easy to style.
They also work well for all body types, and are suitable for everyday wear as well as college and office wear. They will also go with jeggings, jeans, or leggings – whatever suits your personal taste.
Angrakha Kurti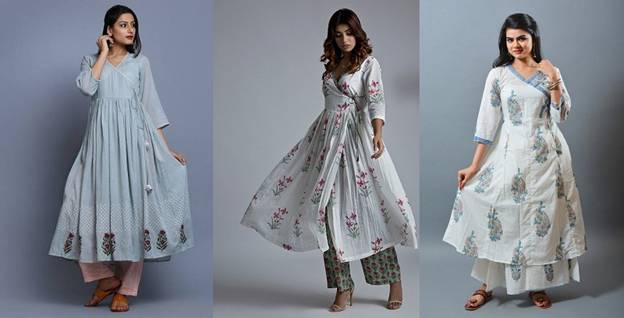 If you are searching for a Kurti style that takes its inspiration from the past, this is the best one. A major portion of the dress will act similar to a flap by sweeping on one side, and it has plenty of embellishments such as tassels, pom-poms and so on depending on your preference. They will also work quite well if you want an ethnic-chic appearance.
The good news is it works well with all body types, and can function as daily wear, depending on the specific embroidery in use.
Print Kurti
This is probably what you think of when you hear the word 'Kurti' being mentioned, and it is versatile enough to work for multiple age groups and body types. The patterns are also quite many as well, ranging from digital prints, Baltic, kalamkari, blocks, and so on; so you will always find something that works for you.
They are also versatile enough to work for multiple occasions, and note that you should avoid wearing them with printed bottoms – your look will be too 'busy'.
Denim Kurti
This is quite good when wearing with leggings, although it can also be worn as a one-piece dress. Its free-flowing design makes it great for all body types, but the denim material means that is suitable for informal set ups or daily use only.
Tunic Kurti
These have a very nice balance between contemporary and traditional fashion, and give the body a great outline. They also work well for all body types, although you should avoid wearing them with full-length jeggings.
Final thoughts
You have probably tried out multiple Kurti styles as a plus size woman, but you have probably narrowed it down to a few. Most of the choices here also work well for plus size women, although you should keep your specific body shape in mind.