Ankur Chawla is currently a passionate Entrepreneur, a much awarded Sommelier/Beverage expert with almost a decade plus experience in Hotels and Hospitality with brands like Taj and Marriott. He is an avid Speaker on various national and international platforms including TEDx, Hong Kong International Wine and Spirits Fair, Josh Talks and guest speaker in many institutes etc.
He is one of the Taj 26/11 attacks survivor and has Authored a best-selling book as well. He has been a regular contributor in writing articles etc. in various magazines like Spiritz India, Sommelier India etc. Ankur Chawla graduated from The Institute of Hotel Management in Shimla in the year 2008, and began his career as a management trainee with Taj Mahal Hotel, Mumbai immediately after.
During his stint with The Taj Group, Ankur was one of the victims of the Taj attack in 2008; and subsequently authored a book on the same titled "14 Hours, An Insider's Account of 26/11 Taj Attacks" in 2012. With a keen interest in beverages from the very outset, Ankur studied Beverages academically from WSET, London and has been certified at completing Level Three of the programme; having been exposed to Master Sommeliers from various parts of the globe.
Post this learning, he was given the additional responsibility as the Sommelier of the Taj Mahal Hotel New Delhi as well as managing restaurant Wasabi by Morimoto at the hotel. With an almost a fated entrepreneurial path ahead of him, Ankur shaped the Beverages program of JW Marriott New Delhi as their Director of Beverages and played a global role as member of Marriott's Asia Pacific Beverage Advisory Board in the year 2014.
He was responsible for selecting and building extensive wine and spirits portfolio and training staff through tasting sessions and conceptualizing Beverage promotion. Apart from that, he also managed "Akira Back" and all bars of JW Marriott. Ankur was the key player in establishing stand-alone restaurants "Masala Library" by Jiggs Kalra and "Made in Punjab".
Entrepreneurial Journey
The year 2017 saw Ankur move the entrepreneurial way, establishing three firms by the name of Scope Bev, One Fine Meal and Anonymous Food Labs.
Scope Bev
www.scopebev.com
Built on the premise of extensive experience and a passion for beverages, Scope Bev is one stop shop for all beverage consultancy needs. We're a team of seasoned professionals who have engaged with the beverage product cycle, end to end. We are your one solution for the Beverage Trade, equipped to manage sourcing, market reach, brand positioning and follow up actions.
Anonymous Food Labs
www.anonymousfoodlabs.com
Anonymous Food Labs was set up with the intention of bringing together a combined knowledge pool, specific to restaurants; food & beverage; to a market that's currently deficient in concept and service drive establishments.
One Fine Meal
www.onefinemeal.in
A boutique catering firm, a third generation food enterprise and a 60 year old lineage. With the belief that no substandard ingredient can turn into quality produce, the operations are centered around state of the art kitchen along with an experience center.
Achievements :
"Entrepreneur in F&B 2018", International Food and Tourism Conference and Awards 2018
An Author of a book "14 hours, an insider's account of 26/11 Taj Attacks" published by Rupa publications. The same was also published in Marathi.
Speaker at various forums including TEDx, Josh Talks etc.
Oceania Baron's Table at the Hong Kong International Wine and Spirits Fair,
Asia: Sole Speaker from India Spiritz Awards, New Delhi, 2016: Panelist and Jury Member
Del Wine Awards, 2016, New Delhi: "Sommelier / Beverage Manager of the Year" Award
Top Chef Awards, Season Three, 2016, New Delhi: "Sommelier of the Year"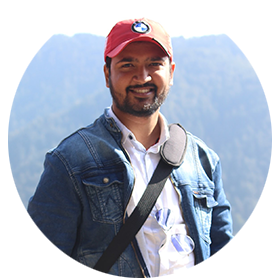 Latest posts by Amit Kumar
(see all)