Here is an effort to keep you busy during this quarantine period and keep your minds away from crisis taking you to the land of love and romance.
Short stories will be posted episode wise. Keep reading and keep romance alive in your life.
UNTOLD STORIES…
Let your heart skip a bit… By Mousumi Kalita Sachdeva
Episode 1-
"I am in love with your words."
"Oh! Thank you so much."
"Do I have to keep imagining your face with your words or will I ever be blessed to see your beautiful face?"
"Oh, C'mon! How do you know that I'm beautiful? I may be very ugly."
"Your words describe your beauty. Somehow, I can imagine you when I read your words."
There was a silence for few seconds as she couldn't find words to respond to Manish.
Manish texts popped up suddenly,
"Hey, what are you thinking? Have I said anything wrong?
Her fingers ran,
"No, No…you haven't. I was just wondering…"
"What were you wondering Sophia, if this be your real name?"
Smilingly, she typed,
"No, it's not my name. Who discloses the real name on Tinder?"
Manish replied,
"My name is real. I didn't fake my name."
"I'm sorry. I can't disclose my name on Tinder."
Manish knew the limitations of a girl.
"It's okay. I understand. Now, may I know your name?"
"I am Sumi…"
"Wow! You have a beautiful name just like you…"
Sumi wondered how could Manish be so confident about her looks. She typed.
"Not at all…I am not beautiful."
Manish replied,
"How does it matter as long as your words are beautiful!"
Sumi couldn't believe if she could find someone who would fall for words on Tinder and not the body.
Manish typed again,
"Would you mind if we exchange our numbers and shift our conversation from Tinder to Whatsapp?"
Sumi took no time in sharing her number as she couldn't manage to be on Tinder. It distracted her amidst her work and during the time when her frustration was in peak, she might get addicted to Tinder.
"798……"
"Ah! Thanks beautiful…Catch you on whatsapp…"
Sumi Rolled her eyes reading his words and spoke to herself,
"This guy is full of drama…beautiful! How does he know How do I look like? Huh!"
A sudden text on her whatsapp pops up,
"Hey Gorgeous! I knew you would be more beautiful than your words."
Manish's first task after getting her number was to catch her profile picture on whatsapp. He was happy to find his thoughts absolutely correct or more.
"Cmon Manish…not gorgeous at all. I know you stole my DP."
"Sumi, can I just hear your voice. I just want to feel you once and I don't know why I am getting restless. I want to hear your voice."
Sumi was confused. Her motive to be on Tinder was not to begin a love story. She wanted no strings to be attached. She typed,
"Feel You? What feel me? How will you feel me and why? I am not your girlfriend. Hope things are clear to you."
Manish was silent. He never wanted to begin any love story too. But his heart skipped every time he read her words.
Sumi typed again,
"I hope you understand. You don't even know me dear."
Manish could feel her fear. He tried to calm the conversation.
"Okay, I am also in no mood to begin a love story. But, there must be a purpose to be on Tinder as you said…to kill your frustrations. Right? How do we begin?"
Sumi could sense Manish to be a decent guy, yet she knew Tinder guys are to kill frustrations.
"Hmm…yes to kill my frustrations of course. That's what Tinder is for…"
Manish felt a sudden adrenaline gush in his body. He typed,
"I can't kiss you through Whatsapp texts. I need to meet you to kill your frustrations. I promise, I will kill it all."
Sumi was silent to read these words. After all she forced him to come to this point. She typed,
"Will meet you soon…in next Episode "
(What about their first kiss? Will they meet? Will they fall in love? – to know what happens next continue reading this heart throbbing story?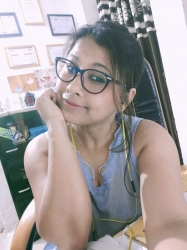 Latest posts by Mousumi Kalita Sachdeva
(see all)